The changing media landscape is undeniable, as is the rise of mobile as a critical device for accessing news. But what exactly does that mean, and what are the implications for publishers and media companies? At iApps, we have witnessed the growing popularity of smartphones in the past decade, so let's look at some trends and delve into important aspects that you should consider when taking your digital publishing strategy mobile.
The smartphone is the primary device for accessing digital news
Online patterns have heavily shifted from computers to smartphones. While laptops have long been the main access point for digital news in Germany, smartphones have taken over, with 58% of Germans accessing information via their mobile devices in 2020.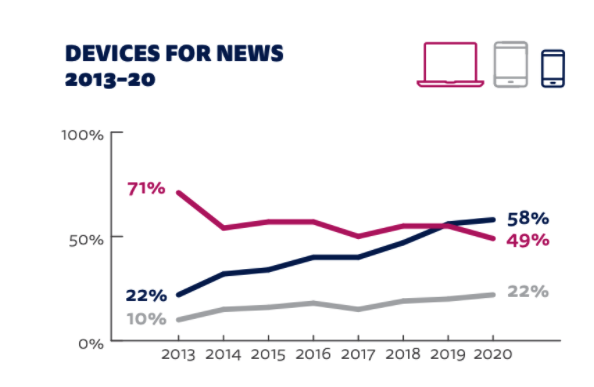 This development in the German market is in line with trends that we see all over Europe. The graphs below show exemplarily the growth curves for Italy and France.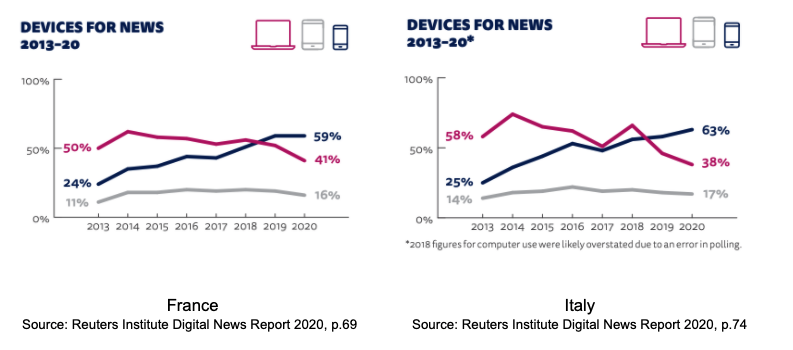 Considerations for your mobile publishing strategy
So there is no doubt that smartphones need to be at the center of your digital publishing strategy, but what aspects should you consider when going mobile?
Adjust to sporadic use patterns
While waiting or in between activities, the average user picks up the smartphone multiple times during the day (more often than we think!) for short periods. These irregular use patterns that can be triggered through push notifications might not come as a surprise. However, they affect the content that users are willing to consume. It often means that publishers have to reformat their content for quick consumption and shorter attention spans to fit into their audiences daily routine.
Good practices:
Keep the content as short as possible without compromising its quality
Use concise and bold headlines to avoid truncation and attract the reader's attention
Add content relevant and catchy images
Consider lists for better readability
Take advantage of multimedia content
For the majority of Europeans (54% in Northern Europe vs 51% in Southern Europe) reading is the preferred way of consuming news. Still, you can see in the graph below that watching and listening is not far behind (combined 38% in Northern Europe vs 44% in Southern Europe).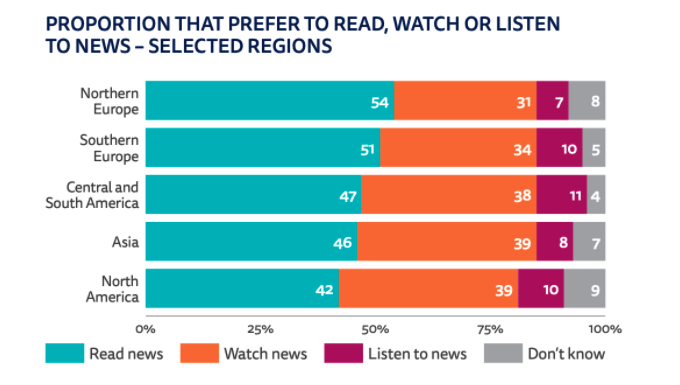 This desire for more multimedia content can and should be satisfied. Modern smartphones have impressive visual capabilities, and technical developments make it possible to watch videos or listen to audio seamlessly over Bluetooth headphones.
The graph below shows that the time Germans spent in streaming apps peaked during the first Covid-lockdown in 2020. Interestingly, consumers chose the smaller screens on their smartphones over tv, even while at home.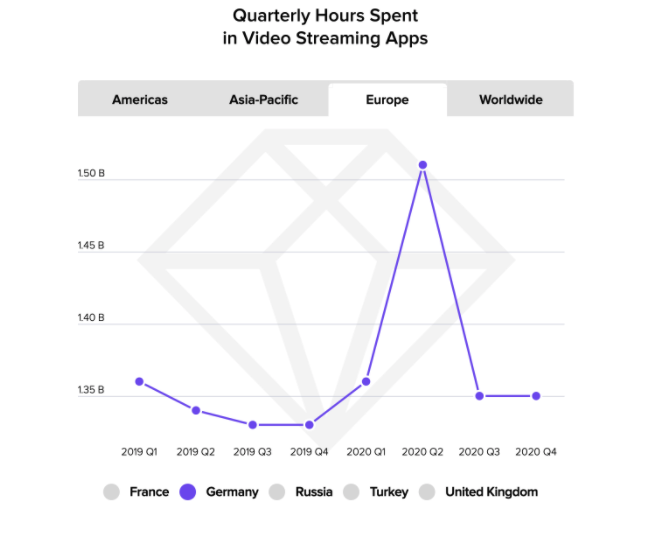 When speaking of multimedia content, we also have to talk about podcasts, which are indisputably a mega-trend. As you can see below, the number of consumers listening to podcasts monthly has continuously increased and now reaches 24% in Germany and even 41% in Spain. The majority of users are younger than 40 years old.

Podcasts are a fascinating topic and I will share more about it in a separate article. With regards to the role of mobile within your digital publishing strategy, it's important to note that most users consume podcasts on their smartphones, and often outside the house. When commutes and activities were severely restricted during the COVID-lockdown, some podcasts experienced up to a 20% drop in consumption.
Offer focused content and track your results
We know that trust in the media has severely been compromised in the past years, and fake news and the sheer volume of digital information have played their part. Users often feel overwhelmed and are looking for meaningful content that they can consume on-demand. With that in mind, having a mobile strategy offers two advantages. First, you can play out content that provides value for the user by creating reading, watching and listening experiences simultaneously. Second, you can use analytics to determine how your readers respond to each of your mobile features and optimise your offer based on relevant analyses.
Android vs iOS
In our projects, we frequently discuss the question of operating systems for mobile strategies. The numbers for this question are straightforward. With 69,8 % in Q1 2021, Android's market share in Germany is still considerably higher than 29.8% for iOS.
However, this is just one side of the coin since research shows that Apple users are more willing to pay for apps. According to a report by App Annie, iOS users spent 21 billion USD in the apple store in Q1 2021, compared to 11 billion USD spent in the Play Store during this period. In other words, you should always cater for both platforms.
Since developing and maintaining native apps can be both time consuming and costly, we recommend using a hybrid solution with connectors to interact with a HTML area or launch HTML native features such as paywall, sharing, tracking, bookmarking, InApp purchases or SSO features.
Mobile plays a central role in your digital publishing strategy. It seems we are moving from a "Mobile First" to "Mobile Only" approach, as mobile devices offer the opportunity of consuming any kind of content any time and anywhere.