More sales with paid content
p4p™ PAYWALL supports you in successfully implementing your paid content strategy. Using this module, you can easily and flexibly display products, subscriptions and bundles behind a paywall. With the help of the single sign-on solution, readers can conveniently access their purchases on the web and on iOS and Android.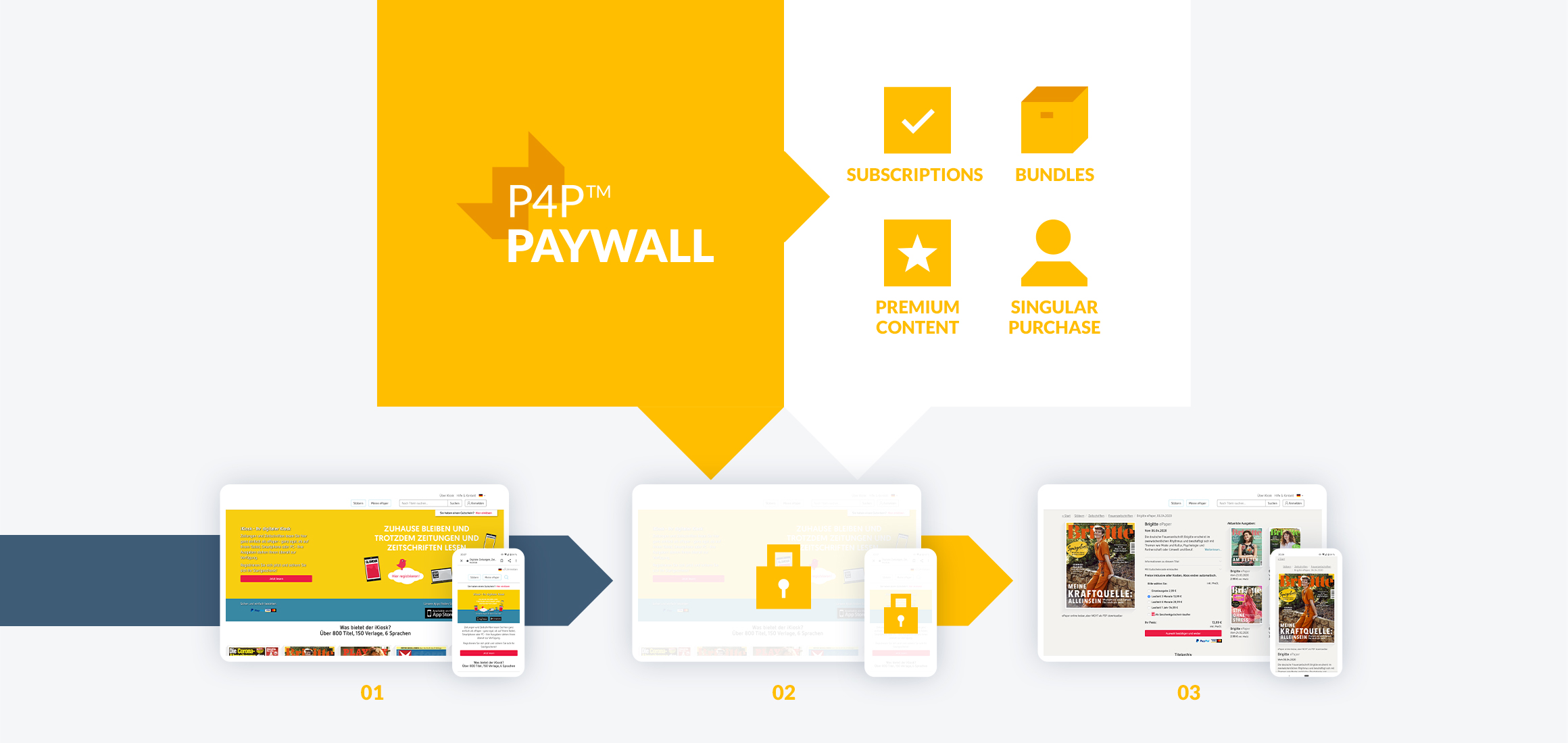 The p4p™ PAYWALL is built modularly, possesses SAP connectors and can be integrated into existing infrastructures in just a few steps. Direct linking to existing SSOs and suitable CMS solutions and CRM systems is effortless. Using an SDK for iOS and Android, the module can also be integrated into third-party applications. Use A/B/C testing to optimise paywall templates and maximise your conversion rate. By connecting to p4p™Analytics, you receive extensive analyses and reports and further optimise your offer.
Payments are supported via App Store, Google Play, SEPA, credit card and PayPal. Additional payment systems and payment service providers can be linked easily.
The p4p™ PAYWALL allows for single purchases, day passes and monthly subscriptions. In addition, you can offer bundles made up of digital and physical goods (with one-time payments and subscription payments, e.g. iPad with digital content for a one-time price of €299.00 plus €19.99 per month). Do you want to offer coupons with absolute (e.g. €5.00) or percentage-based (1–100%) values? Do you need a beginning and/or end date to be determined? Should the coupons be valid only once or multiple times? Do you prefer "talking coupon codes" like "Easter-2021"? With p4p™ PAYWALL, you can easily adapt coupons to your own needs.